Animal Success Stories
Click a letter to find an animal or
view all
.
Magic Bear
At the shelter in Sacramento, he was known as Mac – a 12-year-old chow mix who was on the downslope of his life.
Except he wasn't.
Shamrock friend and foster Goli Mohammadi asked if we would save him if she gave him a forever foster home. We said of course, because we're always eager to get a dog out of a shelter and into a loving family, and Goli does such a wonderful job saving and caring for older chows who otherwise wouldn't have made it out of the shelter.
The first thing Goli did was change Mac's name to Magic Bear (her chows always have "Bear" for a last name). And, like magic, Magic became something other than what the shelter stated.
By the way he ran around, played, and romped on long woodland walks, Magic let Goli know he was no senior. At the vet, his age was put at 4 years. That's more like it, Goli told me.
Unfortunately, Magic didn't like one of Goli's senior chows, and he made it obvious that there would be little peace with both there. So, we began the search for a forever home. One day I got an email from a man named Eric asking about Magic. I connected him and Goli. Eric had lost his chow-Newfoundland mix in December and was desperate for a new friend.
So Magic was off to Sparks, Nevada, to see how he and Eric would fare. Things were a little up-and-down at first, but ultimately Magic made himself very much at home. We're so happy to see that this wonderful guy is now loving his new life. And we're especially glad he gets to live near the mountains, because he loves the snow. And since he's only 4, he and Eric should have many happy years together.
Happy life, Magic Bear.
Fanny
At the age of 15, Fanny found herself alone. All alone. Very much all alone.
Fanny's owner had just died, and the Tibetan spaniel was left in her San Fernando Valley home. Fanny, a champion in her younger days, was left by her owner's relatives without food or water. They took the furniture in the house but evidently decided that a living being wasn't worth saving.
Can you imagine being a very senior citizen whose nice life has been turned on its head? Being abandoned without so much as a bowl of water? That's what happened to this sweet, gentle old girl who was left by "family" to – presumably – starve.
Her breeder, Pat, wanted Fanny to return to her. But Pat lives in New Jersey, and a five-hour, 3,000-mile plane ride in cargo simply wasn't going to happen for this little girl with the adorable white face. Pat contacted Susan Miccio, the national rescue coordinator for the Tibetan Spaniel Club of America. Susan contacted me.
Susan and I have worked together through the years to get homeless Tibetan spaniels back on their paws. Just a few months ago, Shamrock took in PingPong and Pepper, two young ladies whose owner had died suddenly. We were alerted to them by Susan. Before we retrieved them from their owner's family (who in this case was more than happy to step in for them but was unable to give them a good home), we had a new owner in mind. The girls are now happily ensconced in Orange County with their new mom and Cavalier King Charles spaniel brother.
So, when Susan reached out to me about Fanny, I didn't hesitate. Of course I would help her. I spoke with Pat, telling her I already had fosters in mind, my friends Lisa and Andy, who have cared for little fuzzy Shamrocks many times. She agreed that if we could find a good home for Fanny, that would be best.
And, although the relatives of Fanny's mom didn't care, friends of hers did. A wonderful couple rushed to the house where Fanny had been abandoned and picked her up. They kept her overnight at their home in the Valley, where I got her the next day. Then it was off to LA, where Andy and Lisa's vet examined her, cleaned her teeth, and proclaimed her very healthy for her age.
I had barely posted her information on Facebook when Nancy Clark, who adopted sweet Merry from Shamrock last year, posted that she would like her.
"To foster or adopt?" I asked.
Her answer: "Adopt."
Just eight days after coming to Shamrock, Fanny arrived at her new home. She fit right in, and, Nancy says, she and Merry have become best buds. They're the Golden Tibbie Girls. (We think Merry might have just a little Tibbie in her, and even if she doesn't, we're making her an honorary one.) Watching Fanny wander around her new backyard, my heart filled with light and happiness. I can't bear to see any creature suffer, but an old, abandoned dog just breaks my heart.
But, thanks to the village that helped Fanny, the break of a week earlier had been healed
Francine
This is Frankie, formally Francine, who took so long to get better but, a foster, much hospital time and many specialists later, is doing wonderfully in Northern California.
Sam Sam
Around the holidays 2016, we learned about a small, neglected dog found wandering a neighborhood in Southern California. Of course we offered to take him. This poor fellow was a mess. He was so matted and his hair was so long it was hard to tell which end was front and which was back. But before he came to Shamrock, a good Samaritan groomed him, so he looked much, much better. Noel, as we called him, got all checked out by the vet and the ophthalmologist, who gave us drops for his eyes and said he was pretty much blind. But that didn't stop him. He hung out with other dogs at our boarding facility and generally made everyone fall in love with him. When we posted pictures, Sarah -- who had adopted Shamrock dogs before -- joined the We Love Noel party and asked to adopt him. We know a great home when we see one, so off we went to meet Sarah in Sacramento (she is in Oregon, so we met sort of halfway). And off Noel went to his forever home in the Northwest. Unfortunately, he wound up losing both of his eyes, but since he was already blind, that really didn't affect him at all. Today he shares his home with several other dogs and his mom, who renamed him Sam Sam and absolutely adores him. He wants for nothing and is one happy boy.
Thank you, Sarah, for giving Sam Sam the love he deserved after a really crummy start.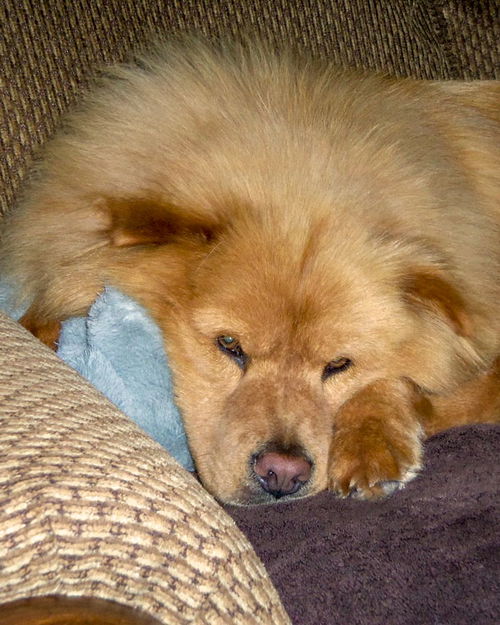 Annie
Annie had quite the journey en route to her forever home in Wyoming with Jane and Sulo. She was in the L.A. County shelter system, with very little interest from anyone. But Jane and Sulo were very interested. The only hitch: They live in Wyoming. But where there's a will, there's a way, as they say. A Shamrock adopter offered to foster her, so Shamrock got her from the shelter. Plans were made to drive Annie (whose name was Frannie in the shelter) to Utah and have her meet her new mom and dad there. We arranged a home visit from a local rescue group and Jane and Sulo earned glowing reports. When Annie's original foster had to travel out of town, a second foster stepped up and cared for her. Finally, it was off to Utah. Annie was a great traveler and settled right in wherever she went. We are happy to say she is doing very well at her new home! Here she is cuddled up with her favorite toy racoon that she picked out herself.
Click a letter to find an animal or
view all
.